Credit Investment Bank (CIB) is a boutique financial services firm providing investment banking and capital markets solutions alongside bespoke financial advisory services to our clients across the globe. 
With the extensive knowledge and experience of the Labuan Financial Services Authority in promoting and regulating financial activities, we are in the position to launch innovative financial products with efficient execution and pricing, in a favourable tax rate, flexible and private environment to cater our clients' financial needs.
We provide a wide range of investment banking, corporate advisory, wealth management and trade finance solutions to corporates, financial institutions, sovereign and individual clients. Our experience and capabilities across markets, currencies, countries, and asset classes enable us to deliver tailored financial solutions for our clients. 
We take a unique hands-on approach with clients, providing in-house guidance through every step from due diligence to structuring to documentation and execution.
Credit Investment Bank is a
leading financial services provider in the region
with a client base spread across
Asia Pacific, Middle East and Europe
. Our expertise in domestic and international treasury operations, investment banking, capital markets; wealth management solutions combined with our strong execution capabilities helps us to deliver tailored solutions.
We are present in key global markets, with a particular focus on providing breakthrough financing arrangements to borrowers and issuers in Asia Pacific, Europe and the Middle East and investors in the Malaysian market. We have presence in these markets putting us in a uniquely well-placed position to advise and manage issuances and investments for regional clients and international investors.
Lead by example
Deliver quality service with utmost professionalism
Be open with no compromise on honesty and integrity
Hold highest ethical and moral values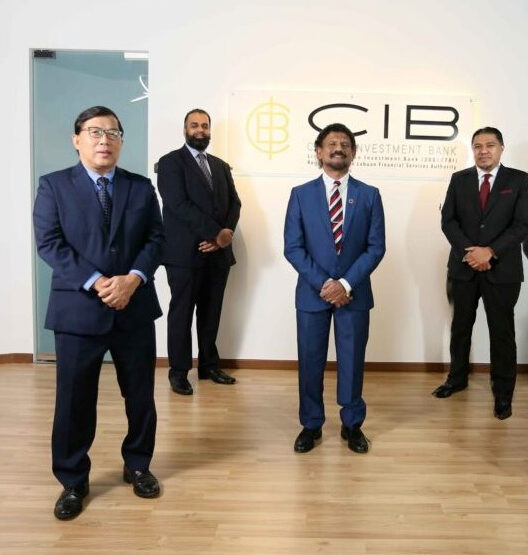 Credit Investment Bank Ltd. comprises a team of business professionals committed to mutual success for our business partners and for our clients' mutual benefit.
Our team possesses unique knowledge, innovative ideas and insight into both global as well as regional markets and this has aided in our ability to assist our clients in achieving strategic objectives.
CIB is committed to providing structured and tailored solutions for its clients and is highly regarded for its expertise in domestic and international treasury operations, investment banking, capital markets; wealth management solutions.
We are proud of the commitment made by all staff working together as "a team – united as one". This spirit is reflected in all we do: 'Together Stronger'.
Our CIB Business Focus
CIB business activities focus on providing Investment Banking , Corporate Advisory, Trade Finance and Wealth Management services.
1. Investment Banking 
CIB has wide-ranged and in-depth experience in acting on behalf of our client in pursuing:
Private debt and equity fund raising;
Asset securitisation;
Initial Public Offering;
Business valuation;
Privatisation;
Mergers and Acquisitions;
Investment and divestiture opportunities;
Corporate restructuring and reorganisation;
Establishment and management of Private Investment Fund.
CIB also offers Shariah compliant Investment Banking services through its Islamic Window Operation.
Malaysia has always been in the forefront of Islamic banking and finance in the world and the Labuan International Business and Financial Centre, where CIB is headquartered, has been intensively supporting and promoting the internationalisation of Islamic finance activities throughout the world.
2. Corporate Advisory
Our team of professionals is well versed with the critical and crucial role strategy plays in the success of a business. Our experience and expertise in strategy can help in various ways including:
Restructuring and reorganisation
Stakeholder engagement
Sustainability
Impact Investment solutions
Strategy formulation and execution
Balance sheet evaluation and optimization
3. Wealth Management
CIB offers ongoing investment advice with comprehensive product recommendations and a dedicated team of specialists to grow and preserve our clients' investments.
A Personal and Collaborative Financial Relationship
Our CIB Private Clients will enjoy a personal relationship with a team of professionals dedicated to serving international investors. It is designed for the client who seeks a combination of ongoing advice, personal attention, and superior client service.
A Dedicated Team of Specialists
Our CIB private clients will work with our dedicated specialists from CIB who include a Financial Consultant and Private Client Advisor.
Our CIB Financial Consultant manages our clients' overall relationship with CIB.
Our Private Client Advisor considers our clients' goals, their current investments, and the complexity of their financial situation.
4. Trade Finance.
CIB offers a wide range of import services, delivered by our experienced trade team. Our in-depth experience/expertise has enabled us to build a trusted and reliable relationship with our clients. Moreover, with a vast international correspondent banking network supporting us, rest assured that we are available to assist you, wherever in the world you do business.
Our innovative tailor-made short, medium and long-term trade finance solutions have enabled us to meet our clients' import and export needs in a timely, efficient and risk adverse manner.
CIB provides fully fledged Trade Finance solutions to our clients' working capital requirements. CIB's flexible Trade Finance products and solutions are structured based on client's business requirements in imports, exports, re-exports, guarantees and financing.
Trade Finance signifies financing for trade, and it concerns both domestic and international trade transactions. Trade Finance is used when financing is required by buyers and sellers to assist them with the trade cycle funding gap. Buyers and sellers also can choose to use trade finance as a form of risk mitigation.
CIB facilitates issuance of Documentary Credit for our clients and manages from issuance to settlement of the Documentary Credits including confirmations and discounting. We also offer Documentary Collections, Receivable Financing, Supply Chain Financing (Factoring and Forfeiting), Avalisation of Import Collections and Structured Trade solutions.
CIB also facilitates issuance of various types of Guarantees for our clients' Corporate Business needs.
We also provide facilities against Trade instruments such as Bank Guarantees and SBLCs.